Public Holiday Accommodation - Randburg
Saturday, 17 June 2017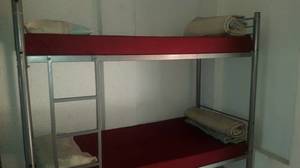 Contacts

Buhle

0113262123
Item description
You're probably looking for friendly accommodation on premises where you're safe and secure, an elegant bedroom, a central location - making everywhere you go close-by. Good you found us.

Accoustix Backpackers and Lodge is well equipped for the business traveller, quiet enough for those who need a good night's rest and centrally located for those who need instant access to the rest of Johannesburg.

Whether you're on a short business trip, stopping over for a night or exploring Johannesburg and staying a bit longer, Accoustix Backpackers and Lodge is equipped to make your stay comfortable, practical and secure.

We take pride in what we do and how we do it, and to make sure every guest depart with a satisfied feeling who received good value for money, and great service.
•car hire (less than 20km)
•casino (less than 10km)
•exercise facilities (less than 5km)
•ice skating (less than 5km)
•internet facilities
•live entertainment (less than 3km)
•medical facilities – Sandton Clinic (less than 1km)
•movies / cinema (less than 5km)
•parking all onsite
•restaurant (less than 5km)
•squash court (less than 5km)
•tea / coffee making facilities
•television in room (non-satellite)
•Wi-Fi hotspot
We also offer short term accommodation and group accommodation. For more information, please call 011 3262123 for Randburg accommodation, 011 4477445 for Rosebank accommodation, and 0110242123 for Fourways accommodation availability!